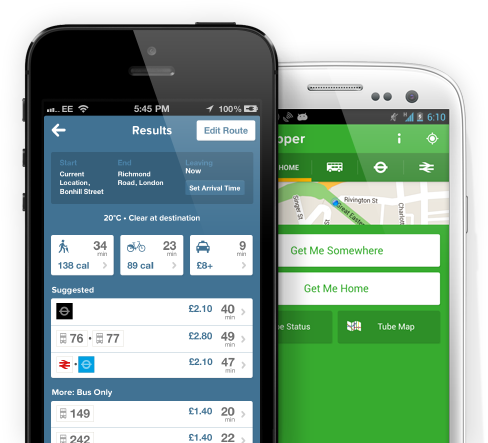 The ultimate live transport app for London.
Our mission: to save Londoners from London! We're reinventing the transport app in the world's most complicated city.
This is the most useful app I have on my iPhone.





— Wyle E
Hands down the best transport app anywhere. Almost flawless. This should be in the pocket of every visitor and local in the city.





— JMRMNZ
Life changing. This app really changes the way you travel through London.





— Londoner
Worth buying an iPhone for if you're living in London. That's how good I think it is.





— Mathieu Triay
A genuine "couldn't live without" app. Have never written a review before. Have never felt the need to. But this app has literally changed my life.





— G-A-C
Hey Citymapper. I want to have your babies.





— Jeffreythebadger
Absolute genius! What I've been waiting for. A 'take me home' function which scans every mode of transport from where you are! Love love love it. I'm writing this from a bus I've never heard of that picked me up from a bus stop I've never been to and it's taking me to my road!





— WarrenT9383
Rubbish.

— Boris Johnson, I run this town.