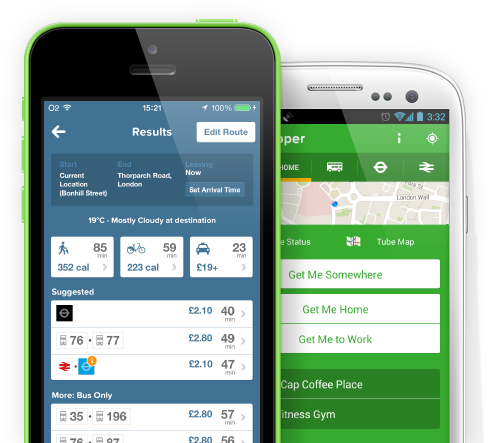 The ultimate transport app.
Our mission: Make cities easier to use. We're reinventing the transport app in two of the world's most complicated cities - London and New York.
Citymapper is, quite simply, the best travel app to be introduced in New York City.

— New York Times
This is the most useful app I have on my iPhone.





— Wyle E
If I could only have one app on my phone, this would be it. (Android)





— Angela Cruz
Worth buying an iPhone if you're living in London. That's how good I think it is.





— Mathieu Triay
Hey Citymapper. I want to have your babies.





— Jefferythebadger
Outstanding - I never thought I could love an app this much.





— Hob
Probably the most innovative app I have used in the last 5-6 years.





— chocobear
A genuine "couldn't live without" app. Have never written a review before. Have never felt the need to. But this app has literally changed my life.





— G-A-C
This app turns your phone into a tiny sober friend in your pocket - Too drunk to remember how buses work? No longer do you need to wander the streets growling at tramps and crying at prostitutes! This app can save your dignity, time and marriage!





— Bigjimlondon1980
Life changing. This app really changes the way you travel through London.





— Londoner
Behold! Time and space will tear asunder! - The laws of nature are violated! Joy and London transport were ne'er meant to couple!





— Clarkey the techno stomper
What an App - Wooooowwwww, greatest app on the app store.





— San0404
Absolute genius! What I've been waiting for. A 'take me home' function which scans every mode of transport from where you are! Love love love it. I'm writing this from a bus I've never heard of that picked me up from a bus stop I've never been to and it's taking me to my road!





— WarrenT9383
Rubbish.

— Boris Johnson, I run this town.